Thursday - October 02 - 07:02 PM
Definition: "Birthday Bash" for us = quiet night out together.
Jane and I have birthday's exactly two weeks apart and for more than a few years we have forgone the usual "give each other a gift" thing and have opted for a quiet evening at a good restaurant. So, Monday night we went around the corner to Indigo, described as a "oriental-mediterranean fusion" restaurant - whatever that is. After settling in a a corner table in the bar (because it's in a restored building the restaurant is comprised of several small rooms and a patio) I ordered a Mojito (mainly because I'd never had one - think I will stick with plain old rum and coke) and we picked up the menu. Soon thereafter, one of the owners stopped by and chatted with us about the various dishes - many of which seemed to have a Moroccan connection. We ended up having Shrimp Couscous and a cold Duck Salad (unusual and very good) as appetizers. Green Curry and Moroccan Chicken for the main courses and dessert. Bottom line - best restaurant meal I've had in looooong time.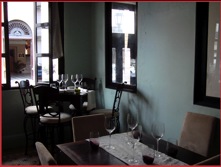 If you're ever in Casco Viejo, Indigo is located next to the Tourism Police on Avenida Central.
Postscript
: No people in the pictures because I returned the next day before they opened for business to take these.