Rain Delay
Saturday - October 11 - 11:32 PM Filed in:
Panama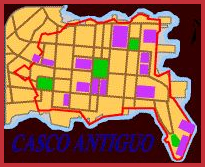 Our walking tour of Casco Viejo was rained out, but the folks at the Casco Antiguo office offered to give us a special tour on Monday. They only have two English speaking guides and one offered to come in on a day when they don't normally give tours. We're both looking forward to learning more about the place.
Odds and Ends
: Walked down Avenida Central the other day to shop. On our way back Jane decides to get two bananas. Asks the street vendor how much for two - he says 25¢. Jane leaves with six bananas, the price, still 25¢.
A little bakery Jane has visited has her wondering what the "rules' are when purchasing pastries. On one stop the lady had a strict limit - only one per kind allowed. This time, Jane said please may I have five - and it was ok. Maybe, "por favor" IS the magic word.
Had a pair of my jeans altered (unfortunately the length, not the waist) - cost $2.00.
Jane got invited to an opera next week, Actually we both got invited, but I need to stay at the apartment to watch Wags (and a hockey game), so I had to reluctantly decline. Madama Butterfly is being performed by an international cast at the Teatro Nacional as part of it's centennial celebration. Who would have thought - opera in Panama.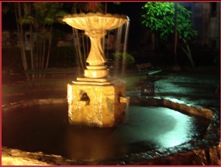 Just got back from my late night walk (11:30) and the restaurants and clubs were going strong. People still arriving and walking the streets. The musicians at one of the outdoor cafes where I normally sit and listen for a while had called it a night - but had been replaced by street performers (jugglers) with most of the tables still filled.
Take care.