Sunday - August 24 - 10:28 PM Filed in:
Panama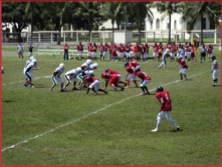 Looking around for something to do after church I found a little blurb on a "Varsity League Football" game in Balboa. Tried to find a little more information to no avail (was it soccer, rugby, "American football") as the "Varsity League" had me a little stumped. But, what the heck - let's just go and see. Turned out to be "American football" (if you're wondering why I use quotes - it's because in the rest of the world "football" is really soccer). It was the leagues opening day and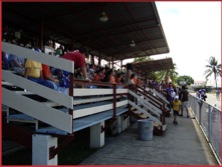 we saw the Jaguars vs the Falcons plus two other teams we never got the names of. The format, (don't know if the do this at all their "games") two teams play a quarter. Then the other two play a quarter and then they start rotating opponents. Lots of cheering (no cheerleaders), music, Spanish announcer with a little English. Had fun, and the football, although not the NFL, was entertaining.
Read more