Night at the symphony
Thursday - October 30 - 08:05 PM Filed in:
Panama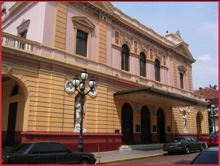 Last night we spent a very enjoyable evening at the National Theater at a free concert by the Joven Orquesta de Centroamerica (the Youth Orchestra of Central America). Fifty or so young musicians from Honduras, El Salvador, Guatemala, Nicaragua, and Panama put on a stunning performance. They played a wide range of music and had a couple of adult guest soloists, but the youngsters were clearly the "stars". It was also interesting in that they started the concert with just the brass section on stage, then the string section had their turn, then the entire orchestra.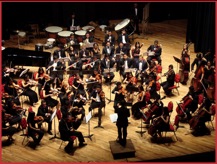 Second half of the concert started with the drums - four gentlemen and two young ladies did a segment that clearly was the crowd's favorite of the night. Then it was back to the full orchestra for the remainder of the night.
After nearly two hours of great music we had our usual three minute walk to the apartment. Having the National Theater in your neighborhood is turning out to be one of those unexpected benefits of Casco Viejo that we are really enjoying. Take care.