Work, work, work . . .
Thursday - December 18 - 08:34 PM Filed in:
Panama

My apologies for the lack of posts over the last few weeks - we've been spending most of our time working on the apartment and running around getting stuff we need for the new place. Not very exciting to write about, even when I'm not feeling worn out. Jane has also been very busy - chief decorator, painter and most importantly my "board holder" and "gofer." Wags, of course, has been hanging around and most of the time staying out of the paint.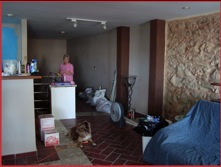 In this picture, Jane is at the top of the stairs on the second level. I'm taking the picture from the living room. To her left, on the floor are bags of broken concrete and tile that we removed from the kitchen - we will hire a guy with a small truck to haul it away. Jane is standing behind one of the old kitchen cabinets.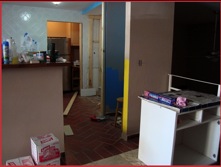 Here is the kitchen (open to the living/dinning room, in an area behind a breakfast bar) and a little idea of the old colors - the bright blue and yellow. The light brown is our new primary color.
These last two show the "crew" discussing what's next on the agenda and taking a well deserved break.
That's it for now - I need to rest. Take care.