Friends visit
Friday - October 24 - 10:09 PM Filed in:
Panama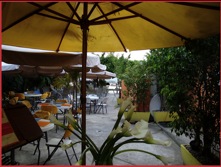 C.J. and Richard paid us a visit today for lunch in Casco Viejo and a little tour. They are new friends that we first met a couple of months ago when we were staying at La Cresta de Ore. They have made several trips to Panama working on visa issues and (like us) hunting for their place in Panama. They had just returned from a trip out West to Chiriqu Province and came back with good things to say about the area around Boquete. Jane and I had made a similar trip two years ago and although we liked what we saw it's become apparent that we prefer the big city experience (Panama City) after our nine years on a 6 by 27 mile long island.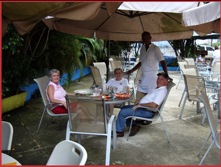 For lunch we went around the corner from our apartment to Buzios restaurant and had a very nice lunch and talked about each other's experiences in Panama. I usually try to find something unusual on the menu to try and after getting the thumbs up from our waiter I ordered "glazed pimentos over cream cheese" as an appetizer, it was grea.......t. The rest of the meal was what has become our experience as the norm in Casco Viejo (and Panama in general) very good food at a reasonable price.
After lunch Jane and I played tour guide as we wandered the streets passing on some of the historical information we have learned in our short time here. C.J. did a little shopping and Richard was in charge of taking pictures. We had a great afternoon - it's nice when friends visit, even for just a few hours.
Postscript
: It's just before midnight and Wags and i just back back from one of our late night walks. Stopped by Plaza Bolivar where CasaBlanca (restaurant) always has live music on Friday and Saturday evenings. We sat on the monument steps and listened to music then walked back to apartment along the ocean front just in time to see a big fireworks display across the bay. Nice end to the day. Take Care.