Casco Festival
Saturday - October 04 - 09:19 PM Filed in:
Panama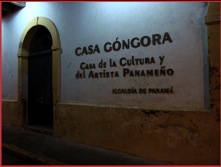 This week the Festival Internacional de la Cancion de Autor (International Festival of Singer Songwriters) had it's final events. The festival was a series of free concerts - this year featuring the guitar and had performers from Panama, Spain and Mexico.
On Wednesday, Jane and I walked two blocks (stopped for ice cream on the way) to Casa Góngora for a small indoor event. Casa Góngora in a partially restored building that is the home to the Casco Antiguo Cultural Center.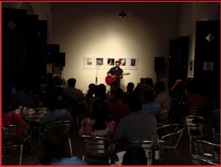 The "performance hall" was upstairs and might accommodate 100 people if they were close friends. Seating (and tables) consisted of aluminum lawn furniture and patrons could bring their own food and drink. We had the suit and tie crowd setting next to the backpackers, the wine and cheese ladies next to the beer and pretzel contingent, along with us seniors and teenagers - a pretty diverse audience.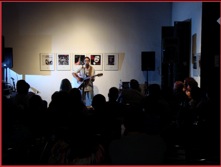 The night's performers were from Chiriquí Province. Spain and Panama City. All were very good, interesting how language is not a problem with music, and we had an enjoyable evening.
Last night the festival moved outdoors to Independence Plaza. The main stage was in front of the 200 year old Cathedral. Sitting on one of the Plaza's many benches we listened to the music, people watched, and wondered about all the history of this place.
Hoping that someday you may visit and have as good a time as we are. Take care.