Tuesday - July 22 - 02:27 PM Filed in:
Panama
Since our arrival three weeks ago we have intentionally been without a car. The first time that has been the case in over forty years. With our decision to try "city life" for the next seven months came the opportunity and we decided to give it a try.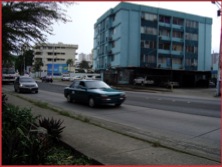 So, how do we get around? We walk a lot and we use taxis. Depending on your luck (or lack thereof) you will be given a ride by either a "laid back" driver (the exception) with a nice air-conditioned car, someone that thinks he's a NASCAR driver (the rule) and is behind the wheel of something that is one stop away from the junkyard, or a combination of these two extremes. You may get music played at a reasonable level or VERY LOUD. With the latter usually comes a driver who is not inclined to turn it down despite your obvious discomfort. We've had taxis run out of gas. They often pick-up additional passengers on the way and may try to charge extra because "it's raining", they really don't want to go where you want to go, or because you look like a tourist.
Read more