Tuesday • July 21 • 07:57 PM • Filed under:
Panama

Since we've been in Panama Jane has been very picky about the quality of veterinary care available to Wags. She even hired a taxi for a day for an "inspection tour" of the various options available in the city, after being less than thrilled with our original vet. Based on some recommendations and her "search" results she settled on Dr. Sandra at "Cats and Dogs" and she has been pleased. It even turned out that Dr. Sandra makes house calls!



Read More...
Thursday • April 16 • 04:42 PM • Filed under:
Casco Viejo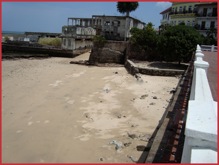 About a 150 feet from our front door is this beach. In this first picture we are looking down from the promenade that is across the street from our apartment. All kinds of activities take place on this strip of sand (only available during low tide) - from, soccer and baseball games to weddings. The local kids even swim here and lately i've been using the beach for . . .
Read More...