Sunday • August 30 • 04:29 PM • Filed under:
Casco Viejo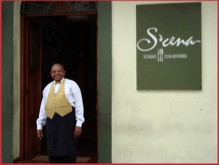 Friday evening we had another fantastic dinning experience at S'cena, here in Casco. Nathan (that's him standing in the doorway) and the crew took very good care of us. We had four appetizers (between the three of us), some of the best stuffed Grouper I've had, and a caramelized apple thingy for dessert. The food and it's presentation were outstanding.
The most unusual aspect of this night out, however, was how it came about.
Read More...
Thursday • August 27 • 08:17 PM • Filed under:
Casco Viejo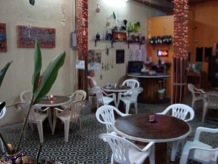 A couple of months ago a new restaurant opened just down the street. Frit Arte is a combination restaurant, coffee shop, and gallery. The food is primarily Panamanian with a Columbian twist - it's good and also inexpensive, a great combination. The gallery has a little of everything - glass, crafts made by neighborhood kids, clothing, paintings, wall hangings, plus other "neat stuff" that decorates the space and makes it a great place to just hangout.
Read More...