Thursday • April 23 • 10:09 PM • Filed under:
Casco Viejo

Pana Art has just opened in Casco Viejo and was rumored to offer something I might be interested in - so, off I go to check things out. They have a wide range of Panamanian handicrafts, clothing and artwork at what looked like very reasonable prices (of course, the "shopping guru" is still in Kentucky, so this will be subject to confirmation upon her return).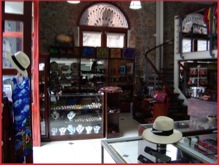 Tucked into a corner hey also have a internet café (a very good addition to Casco) with a couple of tables where you can sit and sip your favorite beverage and enjoy a pastry while checking that important email. The whole setup is a great addition to Casco Viejo and run by some very helpful ladies (mother and daughter). Ops, almost forgot, they also have very good . . .
Read More...