Friday • December 18 • 04:05 PM • Filed under:
Casco Viejo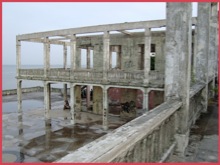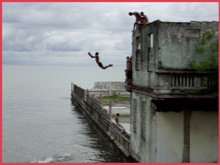 Just down the street from our apartment is the bombed out shell (courtesy of our invasion back in 1989) of Manual Noriega's old Club Union. While it sits waiting for a developer with a lot of money, this roofless structure has played movie set (James Bond), concert venue, party spot, skateboard park and diving platform for the kids - among other things.
Read More...

Yesterday Casco Viejo played host to the Fiesta de la Música, a festival of music born in France in 1982 and currently celebrated in over 100 countries around the world. In Panama it's primary sponsor is the French government through it's embassy. This was the third year for the festival in Casco Viejo and it was a BIG event. Four outdoors stages. two indoor venues and a total of thirty seven performances. Things started to happen around five p.m. (not bad, considering it was scheduled to start at four o'clock) and it was still going when Wags and I went out for our midnight walk.
Read More...