Tuesday • March 03 • 07:42 PM • Filed under:
Casco Viejo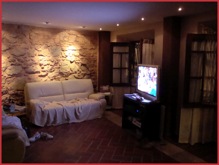 The move from the rental to our new place was our eighth move since we arrived in Panama last June. We only had a couple of hundred feet between new and old but that was overshadowed by all the "stuff" we had managed to accumulate since our arrival. At any rate, we survived and are happy it's done. Even Wags seems relieved that all the excitement is over.
Plenty still to do at the new place, but we can cook (range was installed), wash the dishes (sink drain working), watch TV, and use our new (fast) internet service. Went out yesterday and bought dishes, dinning room table and chairs and some other necessities but still lacking pots and pans. (Gee, too bad, I can't cook! This from Jane). We are basically "happy campers" and maybe by the end of the week will be able to have our first "sit down" meal to celebrate.
Take care.
Friday • February 27 • 06:31 PM • Filed under:
Extras
Started our move to the new apartment so we might be offline (out of touch) for the next couple of days. We're changing our ISP, never know if the gremlins will strike, if all goes well, should have a post by Sunday.
The new range was installed today - their second try, had a little mixup on the first attempt. Countertops and cabinets look great. If I could just get the sink drain installed we would be in good shape. Still have a couple dozen other "odd jobs" to complete, but it's lookin' good.

Back in couple of days. take care.