Jane's Hangout
Thursday • August 27 • 08:17 PM • Filed under:
Casco Viejo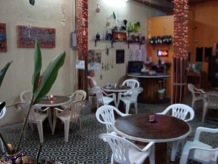 A couple of months ago a new restaurant opened just down the street. Frit Arte is a combination restaurant, coffee shop, and gallery. The food is primarily Panamanian with a Columbian twist - it's good and also inexpensive, a great combination. The gallery has a little of everything - glass, crafts made by neighborhood kids, clothing, paintings, wall hangings, plus other "neat stuff" that decorates the space and makes it a great place to just hangout.
The owners, Maria and Miguel, are simply great - they always have time to talk and make a real effort to introduce everyone - so Jane is getting to know a lot of people in the neighborhood. Her morning routine - take Wags for a walk, drop him off at the apartment and then off to Frit Arte for morning coffee. Occasionally she'll pour a cup of coffee for a customer, but mostly it's just chat with Maria or whoever else happens to stop by.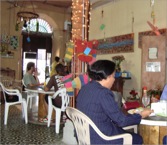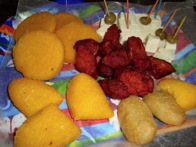 Once a week she helps Maria with the English side of the menu and lately, they've been hitting the malls on shopping expeditions for the restaurant. Maria has even taken Jane and Wags to the vet; we loaned them some pans for the kitchen and borrowed their ladder and they are our "go to" guys when we need help with Spanish, especially over the phone.
Coming soon, Spanish lessons, cooking classes, maybe wine tastings and whatever else Maria can dream up to keep things interesting. The "hangout" keeps getting better!
So, if you find yourself in Casco and need breakfast or lunch (they normally close around four p.m.) stop by Frit Arte - guaranteed you will get a warm welcome from Maria and you might see Jane over at the corner table.
Take care.