Thanksgiving in Casco
Friday • November 27 • 07:14 PM • Filed under:
Casco Viejo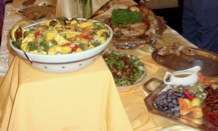 Thanksgiving is not a holiday in Panama but that didn't stop our group of Casco Viejo residents and friends from throwing a pretty darn impressive feast. Turkey and way more than "all the fixins."


Organized by Clara and hosted by the
Canal House
everyone seemed to have a great night - eating too much, meeting new people and talking about all the hot topics of the day. This was the second edition and like last year we had a wide range of nationalities (eight countries that I'm aware of) and ages (my best guess, 10 to 70), with long-time residents welcoming both newcomers and visitors.


All of us in Panama wish you the best this holiday season.

Take care.


Story
: Late afternoon, and we had to take the turkey I had cooked to the Canal House (4 blocks from our apartment). On the way virtually every Panamanian we met (remember they don't celebrate this holiday) yelled out some version of "Happy Thanksgiving" and waved.