Shorty and Slim
Monday • December 21 • 08:53 PM • Filed under:
Panama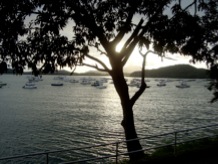 Last night we drove over to the Balboa Yacht Club for a concert by Shorty and Slim. Ordered up some munchies and settled in for a fun evening. They play "fun to listen to" music - most of which has something to do with growing up in the old Canal Zone with an occasional reference to present day life in Panama. Song titles like,
Kakaroach, Life on Mango Street, Cyats and Rats, I Don't Like Snow, Ocean Breeze, Patio Sale, Chiva Bus, What You Dad Do?, The Higher the Monkey Climb - are done to calypso, rock, reggae, oldies and folk music rhythms, resulting in a toe-taping, hand clapping, dancin' good time.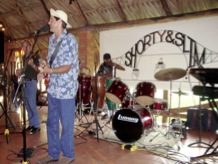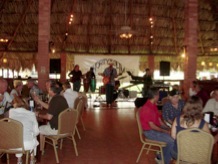 If you'd like a little more information on these guys and their music visit the
Shorty and Slim website
.
You can hear Shorty and Slim's "Going Down to Panama" and watch my new and improved "Down to Panama" slideshow by clicking this link.
Enjoy. Take care.