08/22/10 06:04 PM   •   Category:
Panama
Ever since my early travel days (Nigeria and Europe in the mid 60's) I've always tended to take the road less traveled. Motorcycling in the bush (jungle), hitchhiking - frequently taking the fork in the road that had the fewest cars, and riding the train - where I would pick a destination simply because it was in a different color on the schedule board. I've always chosen the unknown over the familiar - hey, we're living in Panama, so I guess not much has changed.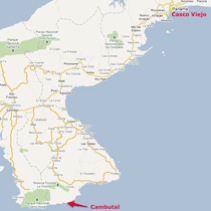 When Jane had a little break from tutoring it looked like a good time to escape the bustle and noise of the city for some peace and quiet. Looking at the possibilities I picked Panama's Azuero Peninsula (we hadn't yet visited this area of Panama) and after checking out the small towns of Las Tables and Pedasi, I spotted Cambutal which certainly seemed to fit my "the road less traveled" criteria. Only question, what (if anything) was there? Turns out, not much - a great beach that attracts serious surfers occasional and lots of small farms. But as is often the case a surprise or two - most importantly, the Hotel Playa Cambutal.
Read More . . .
03/15/10 12:31 AM   •   Category:
Panama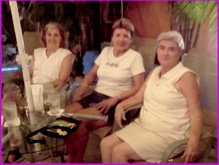 Ellie and Barbara, two of Jane's teacher buds from Charlotte just completed their visit to Panama and are now trying to stay warm and dry after returning home to the North country. During their stay we did most of the mandatory tourist stuff - Casco Viejo, the Canal, Ancon Hill, Panama Viejo, Rainforrest Discovery Center, the Amador Causeway and a visit to Embera' Puru. The three ladies also managed a little shopping, maybe more than a little, and we hit a fair number of restaurants in our bid to help the local economy
It looked, and sounded, like they had a fun two weeks and they now have a few Panama tales to tell. Hey, the Diablo Rojos, taxi drivers and the general Panamanian way of doing things always makes an impression - usually good, because this place certainly isn't Kansas!
Read More . . .
01/04/10 10:43 PM   •   Category:
Panama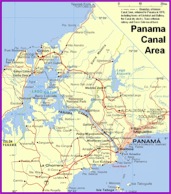 In many parts of the world a transcontinental trip is a big deal, requiring significant planning and days (if not weeks) of travel often under less than great conditions. Not so in Panama where people live on one coast and work on the other, riding the world's first transcontinental railroad (established in 1855) or driving the newly opened Corredor Norte (tollroad) on their daily commute. We even have vantage points in Panama where you can actually see both oceans at the same time. Not surprisingly, our transcontinental journey is more akin to a leisurely Sunday outing than an expedition as we can travel from the Pacific to the Atlantic (Caribbean) in under an hour whenever we want to do a little exploring.
Read More . . .