The road less traveled . . .
08/22/10 06:04 PM   •   Category:
Panama
Ever since my early travel days (Nigeria and Europe in the mid 60's) I've always tended to take the road less traveled. Motorcycling in the bush (jungle), hitchhiking - frequently taking the fork in the road that had the fewest cars, and riding the train - where I would pick a destination simply because it was in a different color on the schedule board. I've always chosen the unknown over the familiar - hey, we're living in Panama, so I guess not much has changed.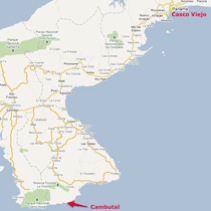 When Jane had a little break from tutoring it looked like a good time to escape the bustle and noise of the city for some peace and quiet. Looking at the possibilities I picked Panama's Azuero Peninsula (we hadn't yet visited this area of Panama) and after checking out the small towns of Las Tables and Pedasi, I spotted Cambutal which certainly seemed to fit my "the road less traveled" criteria. Only question, what (if anything) was there? Turns out, not much - a great beach that attracts serious surfers occasional and lots of small farms. But as is often the case a surprise or two - most importantly, the Hotel Playa Cambutal.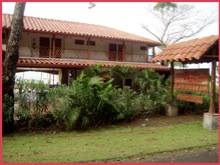 The Hotel
: Near the end of our "road less traveled" sits the
Hotel Playa Cambutal
. New, small (10 rooms), right on the beach and QUIET (except for the occasional yell from the monkeys that resided across the road). Owned by a young married couple Albeiro and Haley (he is Columbian, she is US born) who were our gracious hosts, cooked most of our meals (very good) and helped us explore the area.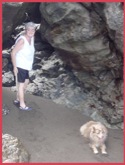 What to do
: Relax. Walk on the beach. Visit the tide pools and cave. Swim and surf (I did the boogie board thing). Hike to the waterfall. Explore the peninsula (Jane even did a little shopping for pottery in La Arena). Eat and (did I mention) relax.
Wags says
: Hey, I really liked this place - no leash needed! Lots of sniffing around, walking on the beach and playing in the water. Crossed a river, got pulled across but I swam back on my own which was more fun. The waterfall was neat.
Our four days in Cambutal was just what we needed.
Take care. Hope you have a chance to explore some of those "roads less traveled" out there.