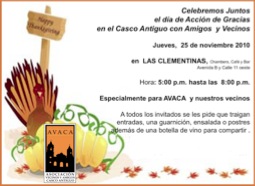 This was our third Thanksgiving Day in Panama and we again celebrated with our friends and neighbors with a potluck dinner that has now become a Casco tradition - thanks to AVACA and Clara's (plus her helpers) hard work in getting things organized. The food was great, all the usual Thanksgiving stuff, plus some surprises. The usual mix of nationalities attended - Panamanian, German, French, Italian, British, Columbian, Canadian (plus others I probably missed) and of course a few of us from the USA - lots of good conversation, I'm pretty sure none of the worlds problems were solved - but everyone had a good time!
The location for this years celebration was
Las Clementinas Chambers, Café and Bar
, Casco's newest hotel - a great setting and a wonderful job by the staff, thanks.
Take care. Happy Holidays.
08/07/10 04:21 PM   •   Category:
Panama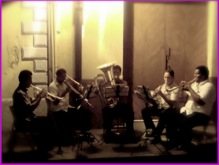 Time flies . . . . as we start our third year in Panama a quick look at the year gone by.
Some highlights
:
• The parades, processions, concerts and festivals. Always something happening in Casco.
• Dinning out - at affordable prices. Eric's hamburgers, Per Due's pizza, the prix fixe dinner at Renee's
• Dinning our - a splurge at Buzio's, S'cena or Ego.
• Going to the National Theater.
• Meeting Panama Notes readers on their vist to Panama.
• Talking to visitors in Casco Viejo and giving our little tours.
• Watching everyday life in our new neighborhood. Walking the streets. Relaxing in a plaza.
* Housecalls - for Jane's haircuts and by Wag's vet.
• Jane is tutoring English as a second language. It's hard keeping a former teacher retired.
• We bought a car.
• Managed to get our Panama drivers' licenses in a single day - major accomplishment.
• Roadtrips - shopping and exploring the countryside - big plus of having a car.
• BIGGEST SURPRISE of the year - Jane is driving herself around town.
On the practical side
:
• Changed our stateside bank (our Atlanta bank was one of those failures you read about). Now banking with USAA - great service.
• Continue to be very happy with the quality of the health care in Panama.
• Progress on learning Spanish has been painfully slow on my part. Jane is, however, picking up the slack.
Hope you past twelve months has been as interesting as ours. Take care.
01/23/10 01:16 AM   •   Category:
Panama

This won't be a post showing how inexpensive it is to live in Panama. In my experience, someone's "cost of living" has less to do with where one lives than on how one chooses to live - wherever they are. Jane and I could certainly live on less, but could also spend considerably more - if we had more and wanted to - but are happy with our current lifestyle.
I can tell you our monthly expenses in Panama are at least a third less than when we lived on St. Croix. Some things are cheaper, some more expensive. On both St. Croix and here in Panama we find items that we feel simply cost too much but we frequently will buy the item anyway - because we
need
it and if we "shop around" or wait for a better price the item may disappear from the shelves - for a long time.
Read More . . .