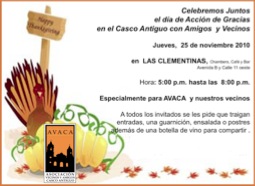 This was our third Thanksgiving Day in Panama and we again celebrated with our friends and neighbors with a potluck dinner that has now become a Casco tradition - thanks to AVACA and Clara's (plus her helpers) hard work in getting things organized. The food was great, all the usual Thanksgiving stuff, plus some surprises. The usual mix of nationalities attended - Panamanian, German, French, Italian, British, Columbian, Canadian (plus others I probably missed) and of course a few of us from the USA - lots of good conversation, I'm pretty sure none of the worlds problems were solved - but everyone had a good time!
The location for this years celebration was
Las Clementinas Chambers, Café and Bar
, Casco's newest hotel - a great setting and a wonderful job by the staff, thanks.
Take care. Happy Holidays.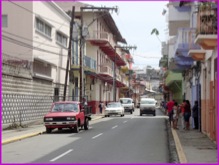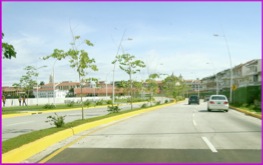 One of the little annoyances associated with living is Casco Viejo has always been getting into and out of the neighborhood - too much traffic trying to use the too narrow streets nearly always resulted in wasted time just sitting in traffic.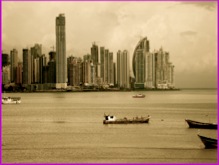 This past weekend we got some relief when the latest section of the Cinta Costera (a $54M project) was opened for traffic. The project is not finished (notice all the construction barricades and fencing) but being able to access Casco without a hassle sure is nice. The completed project will add some green-space, walking and bike paths, along with some much need parking. It will also allow us to walk along the waterfront to the city with views like this.
Take care.
11/04/10 04:31 PM   •   Category:
Panama

This week was the start of the Panamanian holiday season. "Fiestas Patrias" (Independence Day Celebrations) kicked off with a big parade that started here in Casco Viejo, went past the presidential palace and into the city. Yesterday (November 3) was "Separation Day" celebrating the creation of the Republic of Panama when it separated from Colombia in 1903. Today was "Flag Day," followed by "Colon Day" (when Colon, on the Pacific side got the word about separation from Columbia) on the 5th, and then — "The Uprising in the Villa de Los Santos" (the first call for independence from Spain) on the 10th. Closing out the month is "Independence Day" (from Spain) on November 28. Lot's of parades and festivities all across the country.
Read More . . .