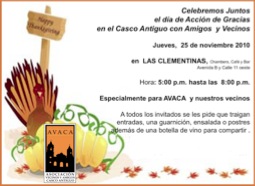 This was our third Thanksgiving Day in Panama and we again celebrated with our friends and neighbors with a potluck dinner that has now become a Casco tradition - thanks to AVACA and Clara's (plus her helpers) hard work in getting things organized. The food was great, all the usual Thanksgiving stuff, plus some surprises. The usual mix of nationalities attended - Panamanian, German, French, Italian, British, Columbian, Canadian (plus others I probably missed) and of course a few of us from the USA - lots of good conversation, I'm pretty sure none of the worlds problems were solved - but everyone had a good time!
The location for this years celebration was
Las Clementinas Chambers, Café and Bar
, Casco's newest hotel - a great setting and a wonderful job by the staff, thanks.
Take care. Happy Holidays.