02/20/10 12:57 AM   •   Category:
Panama
I was going to do a straight forward "note" about the Albrook Mall but while doing a little research I came across some information that I though some of you might find interesting. So . . . this will now include a little historical tour of the "Albrook" area of Panama City and the transformation it has undergone over the last 75 years.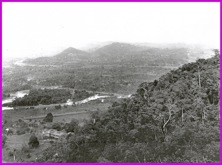 We start our walk through time in the early 1900s with this picture of the "Balboa swamp" from George Chevalier. After the completion of the Panama Canal in 1914 security concerns brought about a slow but steady increase in the number of US military installations in the Canal Zone. In 1922 the "Balboa Fill Landing Field" was completed and as the name implies the swamp was "filled in" and the river was diverted under ground to make room for the airfield. In 1924 it was renamed "Albrook Field" in honor of Lt. Frank. P. Albrook - the general area is still referred to as "Albrook" although many of the facilities, including the airport, now have names honoring Panamanians.
Read More . . .
02/01/10 10:37 PM   •   Category:
Extra

Those of you with a little too much time on your hands might have noticed a few changes to Panama Notes since the first of the year. Different colors, a few changes to the layout, the morphing banner pictures on this page and a change to the navigation bar. Also, a much nicer way to display videos is now up and working, along with some new versions of older videos (some are now in HD). I've also finally been able to add a search function to Panama Notes - some newer visitors may find that useful for finding information in earlier Notes.
Not new, but just a reminder to click on photos to see a larger versions and if you use one of the many RSS readers - click on the little orange icon at the top of the sidebar to subscribe.
Read More . . .