Gone Fishin'
12/16/10 08:03 PM   •   Category:
Panama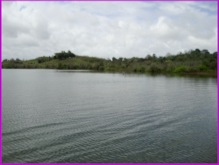 Last week a group of us from the City drove out to Arenosa, a small (very small) village on the shore of Gatun Lake, for a day of fishing. Goldie (the experienced fisherman amongst us) organized the outing with Al, Mike and myself tagging along. After an hour's drive we arrived at Dennis Melton's waterfront home and boarded his pontoon boat (Armando was our friendly, knowledgable guide) for a day on the lake. Weather was great, just a couple of showers that cooled things off and even a little sunshine (we've had a lot of rain lately). We managed to land thirty-eight "keepers" (Peacock Bass, the primary species in the lake) and reeled in plenty of the little guys that we threw back - and, of course, we also had a couple of those famous "big ones" that got away.
After all that hard work reeling in the catch we motored over to a local restaurant and tied up to their front porch. While Armando was cleaning the fish and taking them to the kitchen, we had a couple of colds ones, listened to some "tipico" music (courtesy of an office Christmas party taking place) and then the "fish and chips" arrived at the table - lake to kitchen to table - real fast, hard to beat!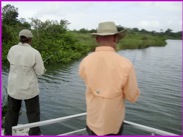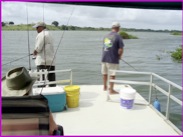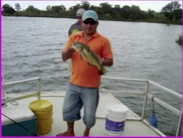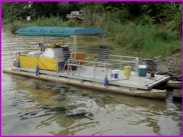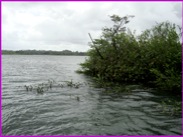 Gatun Lake facts
: The lake was created between 1907 and 1913 by the building of the Gatun Dam across the Chagres River. At the time it was created, Gatun Lake was the largest (160 square miles) man-made lake in the world, and the dam was the largest earth dam. With the creation of the lake, many hilltops became islands with the biggest (3,707 acres) and best known of them being Barro Colorado, home of the world famous
Smithsonian Tropical Research Institute
(STRI). Todays lake, in addition to supplying the water that makes the Panama Canal possible (about twenty miles of the canal meanders through the lake and the canal journey of a single ship release about 52 million gallons of water into the sea) Lake Gatun also supplies a large portion of the drinking water for Panama City and surrounding communities.
If you'd like a fun day on the lake contact Dennis Melton -
his website
tells you all about fishing on Lake Gatun.
Take care. Don't let too many big ones get away.