New Year a new look
01/01/10 12:27 PM   •   Category:
Extra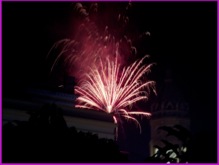 Hope everyone's new year is off to a good start. Decided to give Panama Notes a little makeover - new colors, the site is a little wider and I've got some added flexibility when displaying photos and my little animated slideshows. Will see how it goes (hope I don't mess too many things up) and what the reaction to the new look is.
In RapidWeaver, the program I use to create Panama Notes, you get a different look by either changing the theme or modifying your existing theme. I'm trying a new theme (
Media theme by Will Woodgate
) primarily because it offers a "lightbox" feature for displaying videos. When you see a "Play Video" button, click and it displays a video in a "overlay". Since I doing more videos, it should be a nice addition. We'll see.
Here's a little demonstration:
In addition to the video improvements, I've also changed the layout a little and revised some content to reflect that Panama Notes has changed from a "what's it like to move" to a "life in Panama" chronicle. So . . . if you've been visiting for a while you might want to wander around the site and see what's new.
Also, please let me know what you think of the new look and if you find anything that's broken.
Take care.