Busy weekend
With a gallery opening, an exhibition, the jazz festival, eating out and the theater it was a busy weekend.
Earth Train
, a NGO operating in Panama.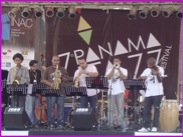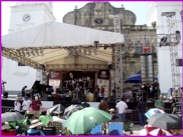 tap dancing
(didn't guess that, did you) as
Tap Olé
took the stage. Think mini mini Riverdance with a Spanish flair. Four people total, two outstanding guitar players and two fantastic dancers. We watched a little over an hour of non-stop action and great music — one of the best shows I've seen anywhere!
After the show we walked a few feet to Plaza Bolivar for dinner at Ciao Pescao - our neighborhood beer and ceviche bar. They do ceviche with a flair, I had the Sicilian version. Good food, cold beer and a cool evening at a sidewalk cafe - nice way to end a busy weekend.
Take care.